Lieutentant Bruce Bachinsky Memorial Page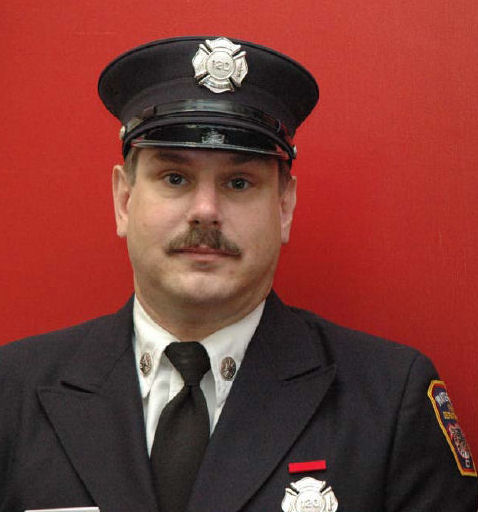 Lt. Bruce M. Bachinsky, 47, died unexpectedly Tuesday October 26, 2010 while cycling through Woodbury. He was the husband of Helen (Schlosser) Bachinsky.
Bruce was born in West Hartford, son of Roy and Margaret (Dziobek) Bachinsky of Beacon Falls. He graduated from Sacred Heart High School Class of 1981. He earned associates degree in Computer Aided Drafting/Design and an associate's degree in Manufacturing Engineering from Waterbury State Technical College.
He worked as an Aircraft Mechanic for Pilgrim Airlines in Windsor Locks before enlisting in the US Army. He completed Ranger training and served with the 2nd 75th Ranger Battalion at Ft. Lewis, Washington. Upon completion of his tour he continued his military career with the Connecticut National Guard, serving with the 2nd 102 Infantry Battalion Cadre Base in Meriden.
He worked at Precision Wire Cut Corporation in Waterbury before joining the Waterbury Fire Department on October 16, 1998. He was promoted to Lieutenant and assigned to Engine Company 8 on Bunker Hill Avenue. He coached Bunker Hill Girls basketball and softball for many years. He was a devoted husband and father and will be dearly missed by his family and friends. Bruce was an avid cyclist, enjoyed working on his car, but above all he loved watching and supporting his daughter's soccer, basketball and softball games. Bruce was a decorated fire fighter earning 2 unit citations. The first one was in 1999 for working at a structure fire on Baldwin St. and the second one was in October 2005 for helping to rescue a man from the Naugatuck River.
Besides his wife of 18 years and parents he leaves; two daughters, Laura Bachinsky and Michelle Bachinsky of Waterbury; a brother, Craig Bachinsky of Beacon Falls; a sister, Daron Gawronski and her husband Jim of Beacon Falls; a brother in law, John Schlosser of Waterbury; two nieces, Emma & Dia Gawronski of Beacon Falls; and a best friend Todd Galick of Waterbury. He will be missed greatly by his Black Labrador Retriever "Twister".
Memorial contributions can be made to the Bachinsky Children Trust Fund c/o Waterbury Fire Fighter Credit Union 601 Watertown Avenue Waterbury, CT 06708.