The 2017 Christmas Ornament is now available.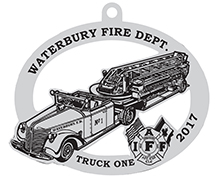 The Queen Mary
The "Queen Mary", a 1939 American LaFrance 85' tiller aerial ladder, was placed into service as Truck 1 on March 4th of that same year at Fire HQ. Its nickname came from its enormous length of 53 feet, which required an additional firefighter in the back to steer the trailer. It was run as a two-piece company.
Ten firefighters were assigned to the unit with six riding the truck, two on the Emergency Wagon (Rescue), and two Chief's aides as necessary. It responded to its first working fire on March 6, 1939 at Worth's Store on 95 Bank Street and remained in service until 1969.
All proceeds from the sale of the Ornaments will go to the Connecticut Childrens Burn Camp.
We also have some previous year ornaments available.
Click Here to see how to Order.