Captain John Keane Memorial Page
Captain John Keane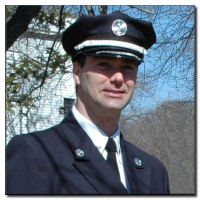 This page pays tribute to Captain John Keane who died in the line of duty on May 22, 2007. John was seriously injured May 19, 2007, after the Engine he was riding in was involved in an accident with a ladder truck responding to the same kitchen fire. Captain Keane passed away 3 days later.
John was best known for his passion and love of his family, wife Monica, daughter Erica and son John. Participating in every activity at St. Mary's School, where the children attended, John helped in any way possible. John took Erica and John everywhere he went, constantly teaching and exposing them to educational experiences on a daily basis. Photographs of the kids adorned his locker, chronicling the various destinations they visited. John was often described by his siblings as, "the glue that kept this family together". Always willing to lend a helping hand, be it raking leaves at his Aunt May's house, or entertaining the kids at his brother Bruce's house on the trampoline.
John graduated from Sacred Heart High School in Waterbury and from Central Connecticut State University with a bachelor's degree and teaching certificate in history. Instead of becoming a teacher, John chose to follow in the foot steps of his late grandfather, Waterbury Fire Department Battalion Chief Dennis Keane, and was hired by the Waterbury Fire Department in September 1994.
Shortly after he came on the job, people began to realize how special he was. He was quickly promoted to lieutenant and in January 2007 was promoted to Captain.
John was a tireless advocate for his fellow firefighters. During the 2006 legislative session he spent all of his free time at the state capitol fighting for the restoration of collective bargaining rights for Waterbury firefighters, and his efforts were successful. He was well known throughout the halls of the state capitol as always respectful, even when he disagreed with your opinion. Two words that could best describe John are articulate and humble. Shortly after his efforts at the state capitol he was elected to the secretary position of the Waterbury firefighters union.
Johns' promising career was tragically cut short on May 22, 2007, so we may never know just how great of a loss we suffered. John will always be remembered by his family, friends, and foes alike as the consummate gentleman.
A memorial fund has been
established to benefit the family.
Donations can be made to:

Captain John Keane Family Fund
c/o Waterbury Firefighters Assoc.
30 West Main Street Suite 12
Waterbury, CT 06702